Safeguarding
Addendum 1 - COVID 19 School closure arrangements for safeguarding and child protection at The Dolphin School
The safety of our children, staff and families is our primary priority in all that we do.
Here at The Dolphin School, we are committed to the safeguarding and the protection and welfare of children. We aim to ensure that all child protection and welfare concerns and referrals are handled sensitively, professionally and in ways that support the specific needs of the individual child and family. Through providing a caring, safe and stimulating environment which promotes the social, physical and moral development of all our pupils, we foster an atmosphere of trust, respect and security.
We work closely together with families, carers, governors, The Trust, the community and a range of external professionals in order to ensure the safety and wellbeing of our pupils. We take a 'child centred' approach.
We follow closely the statutory guidance from the Department for Education.
If you have any concerns about the safety or wellbeing of any child, please contact the school's Designated Safeguarding Lead and Deputy Designated Safeguarding Leads.
Safeguarding is…
How well pupils are taught to keep themselves safe
How well the school protects pupils from bullying, racist abuse, harassment or discrimination, and promotes good behaviour
The effectiveness of health and safety policies and procedures
The effectiveness of arrangements to provide a safe environment and secure school site
How well the school meets the needs of pupils with medical conditions
How appropriately child welfare and child protection concerns are identified and responded to by the school
How effectively the school works with key agencies to safeguard and promote the welfare of children
The extent to which the school ensures that adults working with children are appropriately recruited and vetted, and receive appropriate training, guidance, support and supervision to undertake the effective safeguarding of pupils.
Our Family Support Worker can offer guidance and support about behaviour management, emotional health and wellbeing, finance and debt management and housing. We run weekly coffee mornings which are a great chance to get to know other families. Throughout the year we also run parenting workshops.
Our Pastoral Mentor works with our children to support them emotionally. Staff, families or children can refer themselves. Our Pastoral Mentor may work 1:1 or with a small group of children on issues including anxiety, behaviour, confidence and self-esteem and also support children who have been through big life events. Please see your child's teacher for further information.
Our culture of vigilance
At The Dolphn School we:
· Believe safeguarding and protecting children is everyone's responsibility
· Identify signs of concerns immediately
· Train all our staff to the highest level
· Keep all staff updated with new guidance and policies
· Monitor attendance thoroughly
· Have rigorous monitoring of vulnerable children
· Communicate regularly with external agencies
· Listen to our children
· Care for each other
· Have an open culture
· Support children and their families
· Teach our children to keep safe at all times
For further information please visit www.bristolsafeguarding.org
---
Safeguarding Team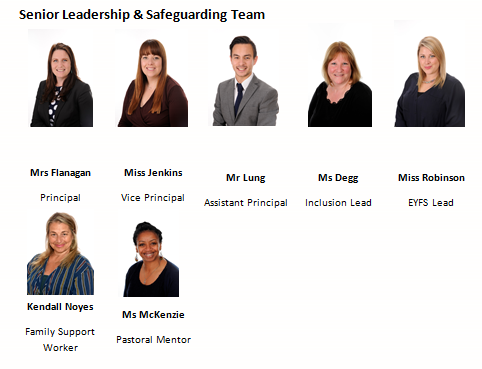 ---
Online Safety
Being safe online is a critical skill that children need to learn from 0 upwards.
At Dolphin School, we foster a safe online school environment by teaching discrete e-safety lessons to all ages through the year, having regular assemblies on staying safe online as well as hosting e-safety sessions for parents.
Safer Internet Day: every year the school gets involved in this global event to help inspire conversations about using technology responsibly, respectfully, critically and creatively. All classes will be taking part on Tuesday 5th February 2019 with the theme Together for a better internet. https://www.saferinternet.org.uk/safer-internet-day/2019
/637/key-information/category/3/safeguarding
---
Useful Websites
Internet Matters: https://www.internetmatters.org/ - Age specific advice for staying safe online from a not-for-profit organisation that has a simple purpose - to help keep children safe in the digital world.
Ceop: For concerns about online sexual abuse or the way someone has been communicating online https://www.ceop.police.uk/CEOP-Reporting/
NSPCC Net Aware: A guide to the social networks and online games that children use https://net-aware.org.uk/#
Childline: 0800 1111 / www.childline.org - A 24 hour free helpline service for children and young people.
Age Limits
Did you know children need to be over 13 to play Fortnite and over 12 to play Pokemon Go? There is a good guide on parent controls and age-ratings on pages 40-45 of this below pdf.
https://www.vodafone.co.uk/cs/groups/public/documents/webcontent/vfcon095785.pdf
Vodaphone Digital Parenting Checklists: Vodaphone produce some useful checklists for parents of different aged children to support them with addressing online safety issues. It is advised that all technology children use has parenting controls installed on it.
Under 5 checklist:
START setting some boundaries now – it's never too early to do things like set limits for the amount of time they can spend on the computer.
KEEP devices like your mobile out of reach and make sure you have passwords/PINs set up on them for the times you might lend them to your child… or for when they simply get hold of them themselves!
CHECK the age ratings and descriptions on apps, games, online TV and films before downloading them and allowing your child to play with or watch them.
EXPLAIN your technology rules to grandparents, babysitters and parents of your child's friends so that they stick to them when they're looking after your child.
REMEMBER that public Wi-Fi (e.g. in cafés) might not have Parental Controls on it – so, if you hand over your iPad to your child while you're having a coffee, they might be able to access more than you bargained for.
SET the homepage on your family computer or tablet to an appropriate website like Cbeebies.
Age 6-9 Checklist:
CREATE a user account for your child on the family computer with appropriate settings and make the most of Parental Controls and tools like Google SafeSearch.
AGREE a list of websites they're allowed to visit and the kind of personal information they shouldn't reveal about themselves online (like the name of their school or their home address).
DECIDE time limits for things like using the internet and playing on games consoles.
BEAR in mind what older siblings might be showing them on the internet, mobiles, games consoles and other devices and agree some rules as a whole family.
TALK to other parents about their views on things like what age to buy kids a mobile and don't be pressured by your child into letting them use certain technologies if you don't think they're old enough or mature enough… no matter how much they pester you.
FAMILIARISE yourself with age ratings and descriptions on games, and apps etc, so that you can be sure your child is only accessing age-appropriate content.
https://www.vodafone.co.uk/mobile/digital-parenting/archive
Some links to more information:
Think U Know – containing internet safety advice for those aged from 5 to 16, along with parents and teachers, this site is produced by CEOP (the Child Exploitation and Online Protection Centre).
Kidsmart – An award-winning internet safety programme for children.
Know IT All – lots of useful advice for keeping yourselves and your children safe on the internet.
Bullying UK – Information and advice about bullying for children, parents and schools.
Kidscape – An organisation which helps to prevent bullying and child abuse.
ChildNet – Top Tips on Gaming.
PEGI – More Gaming Information to support Parents and Children.
ParentInfo – Lots of Support for computers and other child related topics.
Community Links
If a child is at immediate risk call 999.
To report a safeguarding concern call First Reponses on 0117 9036444 (you can do this anonymously).
Childline - Tel: 0800 1111 www.childline.org
Equality Now (in Nairobi, Kenya and London, UK) - Tel (London): +44(0) 20-7304 6902 Tel (Nairobi): + 254 20-271-9832 - www.equalitynow.org
NSPCC FGM Helpline - 0800 028 3550 - www.nspcc.org.uk/preventing-abuse/child-abuse-and-neglect/female-genital-mutilation-fgm - Email: fgmhelp@nspcc.org.uk
For information on or to report a suspicion of online sexual abuse - www.ceop.police.uk/safety-centre/
---
Click on the below links to read or download the documents: