Safeguarding
We work closely together with families, carers, governors, The Trust, community figures and a range of external professionals in order to ensure the safety and wellbeing of our pupils.
We follow closely the statutory guidance from the Department for Education. If you have any concerns about the safety or wellbeing of any child, please contact the school's Designated Safeguarding Lead (see below for contact details).
The Dolphin School is committed to the safeguarding and the protection and welfare of children. We aim to ensure that all child protection and welfare concerns and referrals are handled sensitively, professionally and in ways that support the specific needs of the individual child and family. Through providing a caring, safe and stimulating environment which promotes the social, physical and moral development of all our pupils, we aim to foster an atmosphere of trust, respect and security.
Safeguarding is…
How well pupils are taught to keep themselves safe
How well the school protects pupils from bullying, racist abuse, harassment or discrimination, and promotes good behaviour
The effectiveness of health and safety policies and procedures
The effectiveness of arrangements to provide a safe environment and secure school site
How well the school meets the needs of pupils with medical conditions
How appropriately child welfare and child protection concerns are identified and responded to by the school
How effectively the school works with key agencies to safeguard and promote the welfare of children
The extent to which the school ensures that adults working with children are appropriately recruited and vetted, and receive appropriate training, guidance, support and supervision to undertake the effective safeguarding of pupils.
We have a Family Support Worker who can offer guidance and support about behaviour management, emotional health and wellbeing, finance and debt management and housing. We run weekly coffee mornings which are a great chance to get to know other families. Throughout the year we also run parenting workshops.
We have a Pastoral Mentor who works with our children to support them emotionally. Staff, families or children can refer themselves. Our Pastoral Mentor may work 1:1 or with a small group of children on issues including anxiety, behaviour, confidence and self-esteem and also support children who have been through big life events. Please see your child's teacher for further information.
Safeguarding Team
Designated Safeguarding Lead (DSL) – Shelley Flanagan (Headteacher)
Email: sdixon@dolphinschool.bristol.sch.uk
Deputy Designated Safeguarding Lead – Becks Robinson (EYFS and Phase 1 Lead)
Email: rrobinson@dolphinschool.bristol.sch.uk
Deputy Designated Safeguarding Lead – Steve Lung (Assistant Headteacher)
Email: slung@dolphinschool.bristol.sch.uk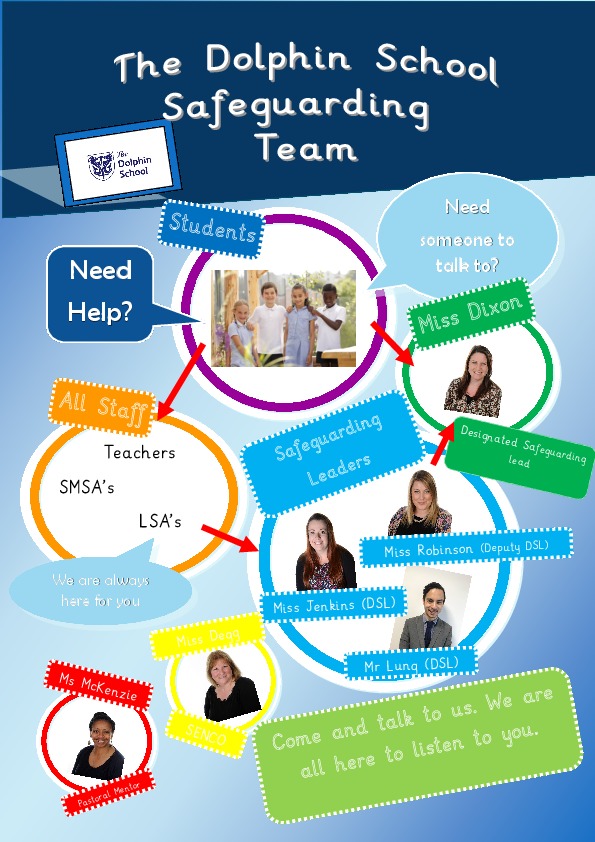 Community Links
If a child is at immediate risk call 999.
To report a safeguarding concern call First Reponses on 0117 9036444 (you can do this anonymously).
Childline - Tel: 0800 1111 www.childline.org
Equality Now (in Nairobi, Kenya and London, UK) - Tel (London): +44(0) 20-7304 6902 Tel (Nairobi): + 254 20-271-9832 - www.equalitynow.org
NSPCC FGM Helpline - 0800 028 3550 - www.nspcc.org.uk/preventing-abuse/child-abuse-and-neglect/female-genital-mutilation-fgm - Email: fgmhelp@nspcc.org.uk
For information on or to report a suspicion of online sexual abuse - www.ceop.police.uk/safety-centre/

Our culture of vigilance
At The Dolphn School we:
· Believe safeguarding and protecting children is everyone's responsibility
· Identify signs of concerns immediately
· Train all our staff to the highest level
· Keep all staff updated with new guidance and policies
· Monitor attendance thoroughly
· Have rigorous monitoring of vulnerable children
· Communicate regularly with external agencies
· Listen to our children
· Care for each other
· Have an open culture
· Support children and their families
· Teach our children to keep safe at all times
For further information please visit www.bristolsafeguarding.org