Safeguarding
The safety of our children, staff and families is our primary priority in all that we do. Through providing a caring, safe and stimulating environment which promotes the social, physical and moral development of all our pupils, we foster an atmosphere of trust, respect and security.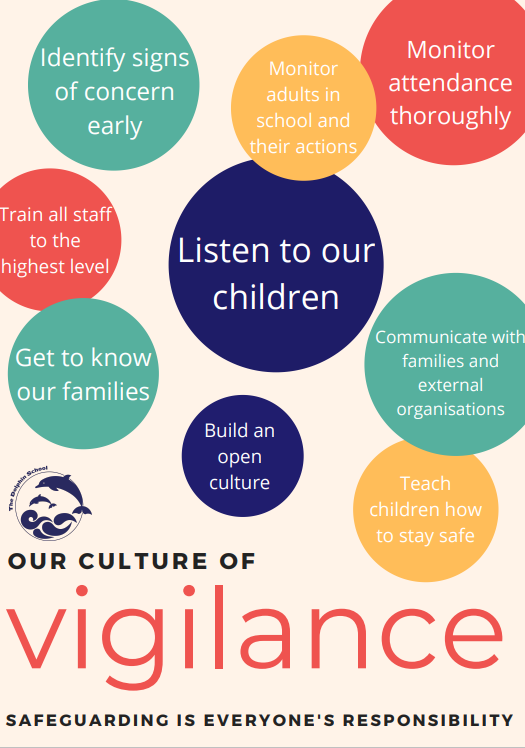 We take a 'child centred' approach as we work closely together with families, carers, governors, The Venturers Trust, the community and a range of external professionals in order to ensure the safety and wellbeing of our pupils.
We follow the statutory guidance from the Department for Education including Keeping Children Safe in Education and Working Together to Safeguard Children and this informs our Safeguarding and Child Protection Policy (available to view at the bottom of this page). You can listen to an audio version of Keeping Children Safe in Education 2022 here.
If you have any concerns about the safety or wellbeing of any child, please contact the school's Designated Safeguarding Lead and Deputy Designated Safeguarding Leads.
To contact the safeguarding team, email tds-safeguarding@dolphinschoolbristol.org
Our Family Support Worker can offer guidance and support about behaviour management, emotional health and wellbeing, finance and debt management and housing. We run weekly coffee mornings which are a great chance to get to know other families. Throughout the year we also run parenting workshops.
Our Pastoral Mentor works with our children to support them emotionally. Staff or families can refer children or children can refer themselves. Our Pastoral Mentor may work 1:1 or with a small group of children on issues including anxiety, behaviour, confidence and self-esteem and also support children who have been through big life events including adverse childhood experiences. Please see your child's teacher for further information.
---
First Response is the front door to children's services in Bristol. The Dolphin School may contact them if we had a safeguarding concern about a child and we wanted to explore further support than what has already been offered from the school and other organisations.
First Response are responsible for assessing the concerns that they receive and making the decision about what action to take regarding them. First Response will gather information from partner agencies that are involved with families that are referred. First Response will decide whether any action is necessary and, if so, whether a family will be referred to the Families in Focus Team or a Social Work Unit for further assessment. The work of Families in Focus can include parenting programmes or support, mentoring as well as support with behaviour management or home routines.