Curriculum Overview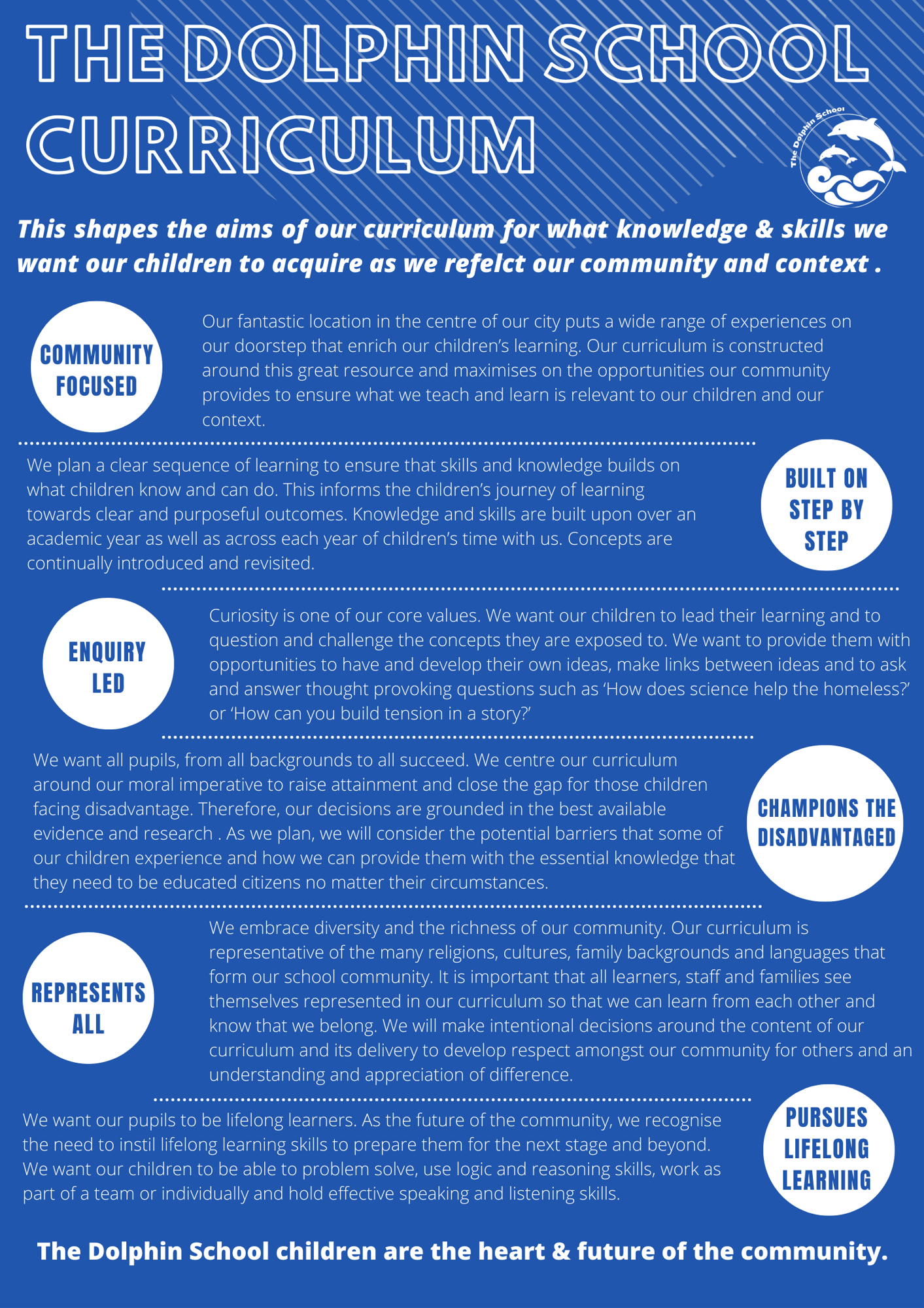 At The Dolphin School, we provide our pupils with an engaging and relevant curriculum which is balanced and broadly based. We believe all pupils can be successful in all areas and focus on states of being for our pupils. E.g. being a geographer, an artist, an engineer, an athlete etc.
The curriculum:
promotes the spiritual, moral, cultural, mental and physical development of pupils at the school and of society, and
prepares pupils for the opportunities, responsibilities and experiences of later life.The school curriculum comprises all learning and other experiences that each school plans for its pupils.
We believe we have a responsibility to provide the best opportunities and experiences for our pupils which is why we go beyond the requirements set out in the National Curriculum to provide a rich and diverse school curriculum for all.
The curriculum embeds curiosity and creativity into our learning. Our curriculum seeks to link learning to the rich heritage and cultural opportunities available in Bristol. The curriculum fits perfectly with the ethos and values of our school which wants pupils to understand and use their local community to support their learning. The pupils regularly go into the community to find out about local history, geography, scientific and cultural events, and the community regularly comes into the school.
We have a 'learning everywhere' ethos and believe that learning can take place in the classroom, school grounds, or other places in Bristol or beyond. We are supported by the 'Curious City' curriculum approach developed by 'Lighting Up Learning'. The curriculum is enquiry led and always starts with a question which provides purpose. Our pupils may ask 'Where does the darkness come from?' when learning about light and dark, or 'Where is our twin?' when comparing geographical locations. Each enquiry starts with a hook into their learning and ends with a challenge that is also celebrated with other members of our school community. Through the completion of the challenge, all pupils should be able to answer the enquiry question. In 2018, our pupils performed at St Paul's Carnival in response to their enquiry 'What is Carnival?' and sang sea shanties on The Matthew as part of an enquiry 'How did people travel in the past?'.
We regularly review the curriculum to take into account local events and how we can support our community further. An enquiry question or challenge from one academic year may be adapted to respond to the needs of our pupils, school and wider community. Our curriculum stays current and purposeful for our pupils – developing our pupils as the heart and future of our community.
Greater Depth Learning
Children who have mastered aspects of the curriculum at our school work at greater depth to strengthen and develop their skills. Across all our subjects our teachers are committed to challenging and stretching learners to deepen their knowledge and understanding.
The Dolphin School profile of a learner working at Greater Depth:
Organises and prioritises their thinking
Remembers new learning effectively
Communicates with skill and flair
Accurate
Shows stamina and resilience
Relishes independent challenge
Observes patterns and connections quickly
Creative and critical thinker
Knowledgeable
The dynamic and enquiry-led Curiouscity curriculum at the Dolphin School provides a significant number of trips, experiences and visitors as part of our termly curriculum. This inspires all our children to go further and deeper into all the topics we study.
Beyond the classroom we have a school calendar of regular enrichment activities for greater depth learners. This includes events, clubs and competitions which require or enhance a greater depth of skill or knowledge. This ranges from PE and foreign languages to writing and general knowledge.Our most confident readers in Year 6 are expected to plan and lead lunchtime book clubs for younger children and we take teams to the highly regarded 'Quiz Club' competitions; our Science team reached the national final in London this year.
Each term there is a curriculum competition, which gives children with talent and passions the opportunity to challenge themselves and shine in different ways. Dependent on the nature of the challenge, their efforts are rewarded with a trophy, certificate or special acknowledgement, such as providing a book cover for a whole school cookery book.
Curriculum, States of Being, Feedback & Assessment