Early Years
Every child deserves the best possible start as the begin their journey of learning. We partner closely with families to ensure each child's transition into Reception is a smooth one. Our children learn through play and through asking and answering curious questions. We use our environment, inside, outside and within our local community, to inspire learning and each of our curriculum enquiries are carefully planned out linking to our children's interests, our local heritage and key events that will all be built upon as they move through the school years.
"Throughout the Reception Year, parents are closely involved in their children's education."

"The school engages well with parents, both before their children join the school and during the year they spend in Reception. Home visits by the early years leader are part of a transition process that means teachers have a good understanding of children's stage of development when they start school."

"Phonics teaching in Reception is strong and quickly enables children not only to develop their reading but also to make good progress in writing."
Ofsted (2018) The Dolphin School report – GOOD
We ensure every transition into our school goes as smoothly as possible:
Meetings with nurseries and pre-schools
Home visits or online sessions to meet family and child
Stay and play sessions
New parent induction meetings
Staggered start with morning or afternoon sessions building up to staying for lunch and whole days
Children spend their time having: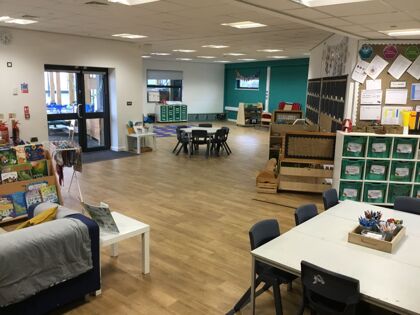 Carpet time inputs
Keyworker small group circle time
Keyworker adult led activities
Discover and Do time:
- Free flow indoors/outdoors
- Participate in adult initiated activities
- Initiate their own activities from the resources in the learning environment
We have an Early Years setting with free-flow access to the outdoor environment with also use of the school playground and roof garden.
Learning beyond the classroom may include:
Park visits
Cooking
Forest School
Windmill Hill City Farm
Bristol Landmarks
Walks round our local area
What will my child learn?
Our learning is Enquiry led. There are 9 enquiries over the year that we explore and each one is built around a key question. Children work towards a key outcome (challenge).
These enquiry questions have been created and developed by our school in response to our context and our children's interests and needs. They have been intentionally placed in specific terms in order to develop children's knowledge and skills across the EYFS areas of learning.
Each area of continuous provision is built around a specific state of being challenge which is displayed and talked through with children in their play. This continues into Year 1 where children are provided with opportunities to explore each state of being in the provision.
Term 1 - Who am I?
Term 2 -How do I play?
Term 3 - Where do I live?
Term 4 - What is a journey?
Term 5 - What is a celebration?
Term 6 - What is special about animals?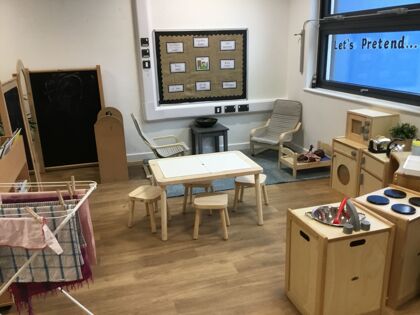 Supporting additional needs
Children with every type of need are supported at our school.
We work closely with all our parents to ensure that pupils are happy and making progress. Working in partnership with parents with children with SEND is even more important.
Social, emotional & mental health
Sensory
Cognition & learning
Communication
Behaviour
You can find out more about our provision for children with additional needs here.
English as an additional language
We celebrate the range of languages spoken by our children.
We work with our staff, community members and external translators to help children 'new to English' access their learning and help them feel settled into school life.
Sharing and celebrating learning
We connect with families through our online platform; Class Dojo.
We can share news, announcements and home learning from teachers and families can respond to our news, message teachers directly and share photos, text, videos or drawings with their teacher showing what they have been getting up to at home.
We will regularly invite you in to see your child's learning.
We will also have parent's evenings and end of year reports to share with you and update you on your child's progress.
We are always here to talk about any questions you have.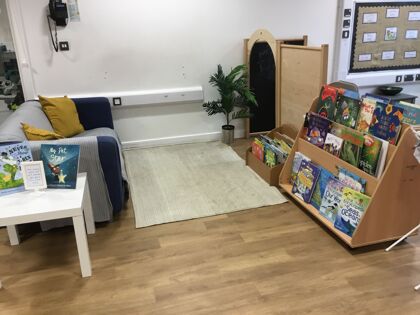 What should my child bring to school?
A labelled water bottle
Their school reading book and reading record
A healthy snack if you wish. All children in Reception are provided with a free piece of fruit each day. Your child will receive a free carton of milk whilst they are 4 years old. If you wish for your child to receive milk following this, you can collect a form from the office or register online at www.coolmilk.com.
What time will my child need to arrive?
| | |
| --- | --- |
| 8.40am – 8.50am | Reception gate opens |
| Arrival after 8.50am | Late |
| Arrival after 9.20am | Recorded as an unauthorised absence |
Reception children can be dropped off at the classroom door.
If you have older children at The Dolphin School, all children can be dropped off at the Reception class entrance (and walk down the stairs).
Reception children cannot be dropped off at the main entrance on Bath Buildings.
What time will I need to collect my child?
| | |
| --- | --- |
| 3.20am | Reception gate open for collection |
If you have older children at The Dolphin School, you can first collect your child from Reception, then walk down the stairs to collect your other children from the hall or their classroom.
Collection permission form is in your pack. Please give a password.
If for some reason you are unable to collect your child/ an emergency has come up, you will simply need to ring and leave a message with the school office or send an email.
The person collecting your child must have your child's password and we must be informed.
The National Reception Baseline
This is a national assessment activity that explores children's starting points as they enter reception and will take place informally over the first six weeks of their time in Reception.
The activities will be short, interactive and practical, covering early mathematics, language, communication and literacy.
Children will use practical resources to complete the tasks e.g. Counting out a set of objects.
They are completed with known adults that children are familiar with.
You can find out more about the Reception Baseline Assessment in the Department for Education leaflet here.
To find out more about admission in to our Reception for the next September start, please see our dates for tours of our school.